"Soft Tissue Contraction in Body Contouring with Radiofrequency-Assisted Liposuction: a Treatment Gap Solution"– New Study Published in the Aesthetic Surgery Journal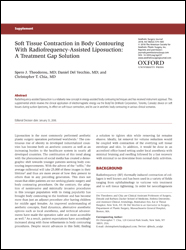 "Soft Tissue Contraction in Body Contouring with Radiofrequency-Assisted Liposuction: A Treatment Gap Solution" by Spero J. Theodorou, MD, Daniel Del Vecchio, MD, and Christopher T. Chia, MD, published in the peer-reviewed international journal Aesthetic Surgery Journal (May 2018 Issue) reviews the clinical application of electromagnetic energy via InMode's BodyTite device on soft tissues during suction lipectomy, its effect on soft tissue contraction or skin tightening, and its use in aesthetic body contouring in various clinical scenarios.

The authors highlight the efficiency of BodyTite Radiofrequency-Assisted Liposuction (RFAL) for aesthetic body contouring. RFAL, a relatively new concept in energy-assisted body contouring techniques, could provide more satisfactory outcomes than conventional liposuction for contouring of "non-adherence zones" such as the arms, abdomen, medial thighs, neck and breasts. Although RFAL may be performed under intravenous sedation or general anesthesia, it is ideally suited for local anesthesia for small, discrete areas in properly selected patients.

Together with judicious patient selection and good body contouring, RFAL has the potential to bring about a 3-dimensional soft tissue contraction reliably and predictably to both expand the base of otherwise not traditional liposuction candidates, as well as improve outcomes in patients for whom liposuction is an option. The study authors believe that RFAL technology "can achieve consistent and reproducible results with excellent soft tissue contraction but without the complication rates of aggressive, superficial liposuction."